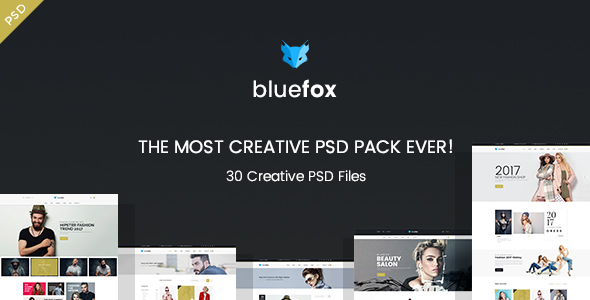 bluefox – is clean, modern and full-featured PSD template for eCommerce/online store websites.
bluefox contains 30 carefully layered PSDs for a developer. All PSDs are well organized, named and groups for easy to understand.

3 completely new and modern homepage included with lots of variation product listing archives and others page to create fully functional websites.

PSDs Includes
01_Homepage_default_fashion shop_style_01
02_Homepage_minimal header_fashion shop_style_02
03_Homepage_beauty_style_01
04_Shop Grid_Full with_style_01
05_Shop Grid_Full with Sidebar_style_01
06_Shop Grid with_Right Sidebar_style_01
07_Shop Grid with_Left Sidebar_style_01
08_Shop Listing with_Right Sidebar_style_01
09_Shop Listing with_Left Sidebar_style_01
10_Product Single_style_01
11_Product Single_style_02
12_Shopping Cart_style_01
13_Check Out_style_01
14_Order Complete_style_01
15_Blog_grid_1columns with_Right Sidebar_style_01
16_Blog_grid_1columns with_Left Sidebar_style_01
17_Blog_grid_2columns with_Right Sidebar_style_01
18_Blog_grid_2columns with_Left Sidebar_style_01
19_Blog_grid_3columns with_Right Sidebar_style_01
20_Blog_grid_3columns with_Left Sidebar_style_01
21_Blog_grid_3columns Full with_style_01
22_Blog_grid_4columns Full with_style_01
23_Blog_details_with_Right Sidebar_style_01
24_Blog_details_with_Right Sidebar_style_02
25_Blog_details_with_Left Sidebar_style_02
26_About us_style_01
28_404 Error_style_01
30_Loading_style_01
Source and Credits
Images are sourced from freepik.com, Shutterstock, adobe image unsplash and google image. IMAGES ARE USED ONLY FOR DEMO/PREVIEW PURPOSE ONLY AND NOT INCLUDED IN WITH PACKAGE.
FlyFreelancer – mission is to change how the world works together. FlyFreelancer connects businesses with freelancers offering digital services in 250+ … more flyfreelancer.com
FlyFreelancer – mission is to change how the world works together. FlyFreelancer connects businesses with freelancers offering digital services in 250+ … more flyfreelancer.com