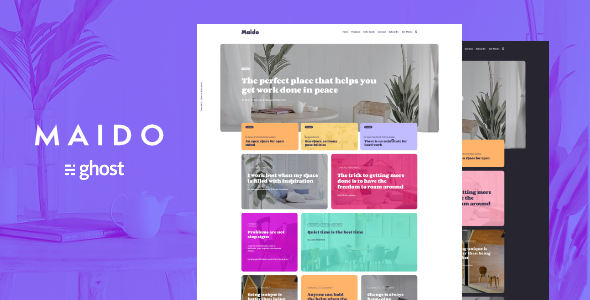 Introduction

Maido is a clean & multipurpose Ghost theme. Whether you are an agency, a designer or a writer, Maido is a perfect choice. It has a unique character with loads of options and features.
At fueko you can find the best premium Ghost themes that are easy-to-use, without compromising the design and code quality.
General features

Ready for Ghost 3.x
Clean design
Lightweight and minimal
Super fast
Fully responsive
Compatible with modern browsers
Looks good on any device
Updated regularly
Fast support
Supports inbuilt Ghost features

Translation ready English, French, Japanese, Polish and Russian included
Members & subscriptions
Publication title and description
Publication logo and cover
Post, page, tag and author page
Multiple authors
Koenig editor
Bookmark card
Gallery card
Secondary navigation
Featured post and page
Reading time in post view
Next and previous post navigation in post view
Custom post excerpt in home view
Page image in contact page view
Author cover, avatar, bio, location, website and social accounts
Tag cover and description
Social accounts
Content API v3
Members & subscriptions

Pricing tables: Free, Monthly, Yearly
Pricing tables in custom account and membership page
Custom Call-to-Action
Sign-in, sign-up, subscribe and checkout notifications
Cancel & continue subscription button
Payment testing

Genuine card information cannot be used in test mode. Instead, use any of the following test card numbers.
Additional theme features

22 colors of details
22 colors of posts in the loop
4 possible homepage layouts
Pinned section for 8 posts and 2 pages
Pinned "hero" post or page
Custom contact page with Formspree
Search function
Related posts
Sizes items in the loop
Color labels in post view
Reading progress indicator in post view
Image zoom in post and page view
Share post on Facebook and Twitter
Copy link function for share section in post view
Comments with Disqus
Responsive video
Responsive tables
Automatic dark version depending on the system settings
Additional social links
Theme tested on without members & subscriptions

Credits

All photos used in the theme demo are from Unsplash

Supported Ghost All features available for the latest Ghost version (see changelog)


3.5.0, 3.4.0, 3.3.0, 3.2.0, 3.1.x, 3.0.x, 2.37.x, 2.36.0, 2.35.0, 2.34.0, 2.33.0, 2.32.0, 2.31.x, 2.30.x, 2.29.x, 2.28.x, 2.27.0, 2.26.0, 2.25.x, 2.24.0, 2.23.x, 2.22.x, 2.21.x, 2.20.x, 2.19.x, 2.18.x, 2.17.x, 2.16.x, 2.15.0, 2.14.x, 2.13.x, 2.12.0, 2.11.x, 2.10.x

Changelog Compatible with Ghost 3.2.0 or later


--------------------------------
  Version 1.3.2  Jan 20th 2020
--------------------------------
∙ New: Custom authors page
∙ Improved: Comments are hidden from non logged in users if the post is for members
∙ Updated: The search function now includes also 'plaintext' field
∙ Small bug fixes and performance improvements

- Added file:
    custom-authors.hbs

- Changed files: 
    assets/css/screen.css
    assets/js/global.js
    partials/members_cta.hbs
    partials/search.hbs 
    author.hbs 
    custom-account.hbs
    post.hbs
    tag.hbs
    package.json 

--------------------------------
  Version 1.3.1  Dec 21st 2019
--------------------------------
∙ Updated: French, Japanese and Russian translations

- Changed files: 
    partials/locales/fr.json
    partials/locales/ja.json
    partials/locales/ru.json
    package.json 

--------------------------------
  Version 1.3.0  Dec 19th 2019
--------------------------------
∙ Added: Ability to cancel or continue subscription from member's account page
∙ Added: Some subscription specific data on the account page
∙ Updated: English, French, Japanese, Polish and Russian translations
∙ Removed: 'Invalid' status from subscribe forms
∙ Small bug fixes and performance improvements

- Changed files: 
    assets/css/screen.css
    members/signin.hbs
    members/signup.hbs
    partials/locales/en.json
    partials/locales/fr.json
    partials/locales/ja.json
    partials/locales/pl.json
    partials/locales/ru.json
    partials/members_subscribe_alerts.hbs
    partials/members_subscribe_form.hbs  
    custom-account.hbs
    custom-newsletter.hbs
    package.json 

Changelog Compatible with Ghost 3.0.0-3.1.1


--------------------------------
  Version 1.2.3  Dec 5th 2019
--------------------------------
∙ Added: Support for secondary navigation
∙ Small bug fixes and performance improvements

- Changed files: 
    assets/css/screen.css
    assets/js/post.js
    partials/footer.hbs
    partials/post_related.hbs
    custom-membership.hbs
    package.json 

--------------------------------
  Version 1.2.2  Nov 5th 2019
--------------------------------
∙ New: Custom tags page
∙ Small bug fixes and performance improvements

- Added files:
    partials/images/feature_img_tags.hbs
    custom-tags.hbs

- Changed files:
    assets/css/screen.css
    partials/members_subscribe_alerts.hbs
    partials/post_related.hbs
    custom-membership.hbs
    package.json

--------------------------------
  Version 1.2.1  Nov 3rd 2019
--------------------------------
∙ Added: Translations into French, Japanese, Polish and Russian
∙ Fixed: Issue with incorrect reading time in post view
∙ Updated: English translation
∙ Small bug fixes and performance improvements

- Added files:
    partials/locales/fr.json
    partials/locales/ja.json
    partials/locales/pl.json
    partials/locales/ru.json

- Changed files:
    assets/css/screen.css
    assets/js/index.js
    partials/locales/en.json
    partials/members_subscribe_form.hbs
    custom-account.hbs
    custom-newsletter.hbs   
    default.hbs
    package.json

--------------------------------
  Version 1.2.0  Oct 29th 2019
--------------------------------
∙ New: Support for members & subscriptions
∙ New: Custom signin and signup page
∙ New: Custom account page with own featured image and excerpt
∙ New: Custom membership page with own featured image and title
∙ New: Pricing tables in custom account and membership page
∙ New: Custom Call-to-Action for posts with options: members/paid-members
∙ New: Notifications for signin, signup, subscribe and checkout
∙ Improved: Custom subscribe page now is custom newsletter page and shows own featured image and title
∙ Updated: English translation
∙ Small bug fixes and performance improvements

- Added files:
    members/signin.hbs
    members/signup.hbs
    partials/members_cta.hbs
    partials/members_login_panel.hbs
    partials/members_plan_free.hbs
    partials/members_plan_monthly.hbs
    partials/members_plan_yearly.hbs
    custom-account.hbs
    custom-membership.hbs
    custom-newsletter.hbs
    routes.yaml

- Changed files:
    assets/css/screen.css
    assets/js/global.js
    partials/locales/en.json
    partials/icons/site/search.hbs
    partials/members_notifications.hbs
    partials/members_subscribe_alerts.hbs
    partials/header.hbs
    partials/footer.hbs
    partials/loop.hbs
    partials/pinned.hbs
    partials/post_related.hbs
    partials/search.hbs
    custom-contact.hbs
    page.hbs
    post.hbs
    package.json

- Removed files:
    custom-subscribe.hbs

--------------------------------
  Version 1.1.0  Oct 26th 2019
--------------------------------
∙ New: Compatibility with Ghost 3.0
∙ Improved: Custom subscribe page now shows own title
∙ Updated: Changed the search function behavior from "plaintext" to "excerpt" 
∙ Updated: Replaced labs/subscriptions with members/subscription feature
∙ Updated: {{statusCode}} helper replaces deprecated {{code}} helper
∙ Updated: English translation
∙ Small bug fixes and performance improvements

- Added files:
    partials/members_notifications.hbs
    partials/members_subscribe_alerts.hbs
    partials/members_subscribe_form.hbs
    custom-subscribe.hbs

- Changed files:
    assets/css/screen.css
    partials/locales/en.json
    partials/search.hbs
    default.hbs
    error.hbs
    footer.hbs
    package.json

- Removed files:
    partials/subscribe_form.hbs
    partials/subscribe_labs.hbs
    subscribe.hbs

Changelog Compatible with Ghost 2.10.0-2.37.2


--------------------------------
  Version 1.0.0  Oct 17th 2019
--------------------------------
∙ Released

FlyFreelancer – mission is to change how the world works together. FlyFreelancer connects businesses with freelancers offering digital services in 250+ … more
flyfreelancer.com
FlyFreelancer – mission is to change how the world works together. FlyFreelancer connects businesses with freelancers offering digital services in 250+ … more flyfreelancer.com