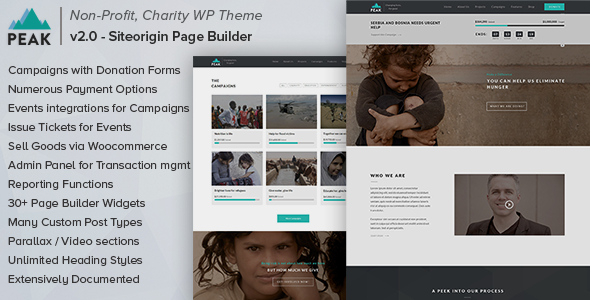 WordPress 4.9 Compatible. Last Update on: 24 July 2018 | version 2.7 –Change Log

Peak is a charity theme for non-profit organisations. The theme integrates with well regarded Give Plugin from WordImpress &#8211; <a href="https://wordpress.org/plugins/give/" rel="nofollow">https://wordpress.org/plugins/give/</a> and Tribe Events Calendar plugin.

The theme pages are built using popular <a href="https://wordpress.org/plugins/siteorigin-panels/" rel="nofollow">SiteOrigin page builder</a>. Peak comes with support for about 40+ custom page builder elements/widgets that are accessible for easy insertion and configuration in the page builder including the ones that are part of our popular <a href="https://wordpress.org/plugins/livemesh-siteorigin-widgets/" rel="nofollow">SiteOrigin widgets plugin</a>. So, building a great charity website is now as easy as drag/drop/configure and publish.

The theme features a custom post type named Campaign which integrates with donation forms created by Give Plugin and Events created via Events Calendar. Give plugin is quite versatile and provides features like multitude of payment options (via paid plugins), transaction mgmt, reporting capabilities for income generated etc.

The theme also integrates with WooCommerce to help non-profit organizations sell goods for raising money.

<img src="http://www.livemeshthemes.com/wp-content/uploads/2015/11/peak-dashboard1.jpg" alt="Peak Features" />

Features Overview:
Campaigns with donation forms
Numerous payment options
Events integrations for Campaigns
Issue tickets for events
Sell goods via woocommerce
Admin panel for transaction mgmt
Reporting functions
Premium Shortcode Builder
Fully Responsive
Options for a single page or a multi-page site
Many Custom Post types
Unlimited color schemes
1500+ Retina ready icons
Tons of Options
Premium Revolution Slider, Flex 2 Slider, and Nivo Slider included (All sliders fully Responsive)
Support for Gallery
Unlimited Sidebars
Translation Ready
SEO Optimized
600+ Fonts
Tons of Shortcodes with visual shortcode helper tool
Modern Mobile Menu
Widgets for Flickr and Instagram
Change Log
Version 2.7

Fixed - Color picker not found field in theme options.
Updated - Revolution Slider

Version 2.6

Updated - Revolution Slider
Fixed - Background images not showing up on single post headers
Fixed - The campaign grid malformed HTML with misplaced button.
Fixed - Instagram and email icon not showing on team profiles
Added - Improved compatibility with plugins like Events Calendar

Version 2.5

Fixed - Warnings raised with PHP 7.x versions
Fixed - The page would exit if the revolution slider entry specified in the page options was missing. 
Updated - OptionTree framework to handle PHP 7.x versions
Updated - Isotope version and improved performance and compatibility with plugins

Version 2.4

Fixed - Nivo Slider caption not displaying
Updated - Revolution slider

Version 2.3

Fixed - Compatibility issue with Give plugin version 1.8 making the donation progress to disappear from campaign pages
Fixed - Alt tag text specified for images not taking effect on blog and other pages
Updated - Revolution slider

Version 2.2

Fixed - The theme would raise error on command line interfaces like WP-CLI. 
Fixed - The plugin activation prompt less intrusive. 
Updated - Revolution slider

Version 2.1

Updated - SiteOrigin page builder elements/widgets
Updated - Revolution slider

Version 2.0

Added - Rebuilt pages with awesome SiteOrigin page builder. Page sections is deprecated.
Added - 30+ page builder widgets for easy page composing. All major shortcodes are now available for easy configuration and insertion in the page builder. 
Added - Support for additional 15+ premium quality page builder widgets via author's plugin
Added - Ability to use Livemesh shortcodes tool in SiteOrigin page builder and Visual Composer. 

Version 1.2

Fixed - HTML parse errors encountered in a few rare occasions.
Fixed - Deprecated errors related to the Events Calendar.
Updated - Revolution slider plugin
Fixed - Deactivating Events Calendar results in a bug in single campaign
Fixed - Give button styling
Fixed - WooCommerce pagination

Version 1.1

Updated - Livemesh Shortcode Builder for latest shortcode updates. 
Updated - Added carousel shortcodes documentation and other minor changes to documentation.
Updated - Contact Info widget
Updated - Footer styles
Added - Display campaign header by default and hide from all pages once user closes the same.
Fixed - Piechart not showing up. 

FlyFreelancer – mission is to change how the world works together. FlyFreelancer connects businesses with freelancers offering digital services in 250+ … more
flyfreelancer.com
FlyFreelancer – mission is to change how the world works together. FlyFreelancer connects businesses with freelancers offering digital services in 250+ … more flyfreelancer.com